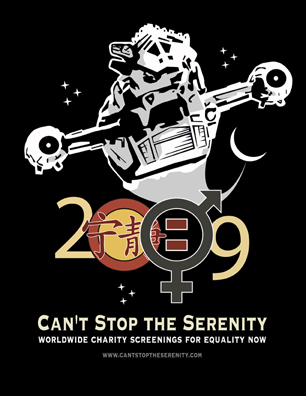 The organisers of the charity screenings in the global event that is Can't Stop The Serenity (CSTS) are obviously fans of Joss Whedon and his works, especially the TV series
Firefly
and the subsequent movie,
Serenity
. But more than that, most of us are passionate about the work done by the charity that was originally chosen as the main beneficiary for the screenings,
Equality Now
. EN was chosen because it is Joss's favourite charity (one of his mother's former students was the co-founder) and because it strives to eliminate violence and discrimination of women and children throughout the world. If you haven't seen Joss's speech as he was presented with EN's Man on the Front Lines award in 2006 (which we show every year),
watch it now
.
So many of us are on limited budgets, especially these days, and can't afford to give as much as we would like to help end so-called honour killings - and now 'honour suicides' - human trafficking, female genital mutilation and domestic violence. By working for successful fundraising efforts such as this, we can do a small part to end these enormous problems. And the bonus is: we get to watch our favourite Big Damn Movie on a big screen once again, with the added pleasure of watching it with others who enjoy it as much - or maybe have never seen it before! See the
CSTS promo clip
on YouTube.
This year's Global Organiser, Anne Berringer, is writing a series of thoughtful articles on Fridays about why we do this.
Here
is the first one and
here
is last Friday's. Be sure to check out the rest of them and consider attending your local event - or having one of your own (see the CSTS forum for getting started) - or even donating to an event near you, if you can't attend.
In Vancouver, CSTS will be on Saturday, June 27th from 11 am to 6 pm, at the HR MacMillan Space Centre, 1100 Chestnut Street. Twenty percent of the net proceeds will be going to the BC Women's Hospital, with the other 80% to Equality Now. Join us for a Dr. Horrible's Sing-Along Blog sing-along, silent auction, games, door prizes, goodie bags and more, plus
Serenity
on a big screen. Volunteers are always welcome. You can contact me at serenityscreeningvancouver at yahoo dot ca.
Don't forget the deadline for ordering and paying for T-shirts, postcards and patches is midnight, May 13th. Items bought through this blog, including tickets, can be picked up at the door. The T-shirts will have the 2009 winning design on the front and a list of participating cities on the back.