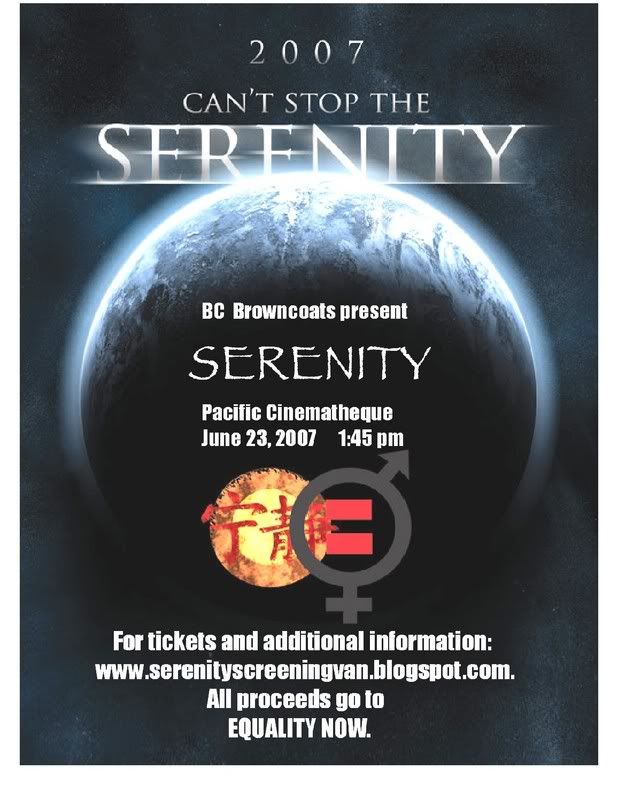 Here is the flyer that Chad put together from
lexigeek's
winning design. This design is also featured on the
front
of this year's T-shirts, with a list of the cities involved on the
back
.
The T-shirts are $20 each, size S to 3XL, with all proceeds going to Equality Now, and are available for prepaid orders only until May 14th. Just click on the second button below. (There is a $2 service charge to cover the PayPal fees.) Payment and orders can also be made in person from a member of the organising team.
Again this year we have some wonderful door prizes, including a $25 gift certificate from
Videomatica
. We have a number of donations from global sponsors - they have given one item to each of the cities involved this year.
Global Sponsors and their donations include:
Universal Home Entertainment:
A voucher for the "Serenity: Special Edition" DVD, coming in late summer;
Dark Horse Comics:
a copy of "Serenity: Those Left Behind" Trade Paperback and a mini-poster promoting the comic;
BenBella Books:
a copy of "Finding Serenity" (essays on "Firefly"), autographed by Jane Espenson and a voucher for "Serenity Found", being released in September;
Things From Another World (TFAW):
the Buffy Season 8 Comic #1, written by Joss Whedon, Variant cover;
Quantum Mechanix:
"Fan Club Edition" Serenity Alliance Money Pack;
Black Market Beagles:
a poster, either "Miranda" or "Serenity Crew";
Done the Impossible:
the Done The Impossible DVD;
Bedlam Bards:
autographed CD;
Dragonweave:
"Serenity" kanji jewellery;
ReadMyChest.com:
buttons and stickers.
In addition, everyone who attends the screening will be able to put their name in a draw for a chance to win two tickets on the
Browncoat Cruise
, December 1, 2007. The winner of the draw in each city will be eligible for the overall draw for two tickets.
Winner is responsible for transportation to and from San Diego.