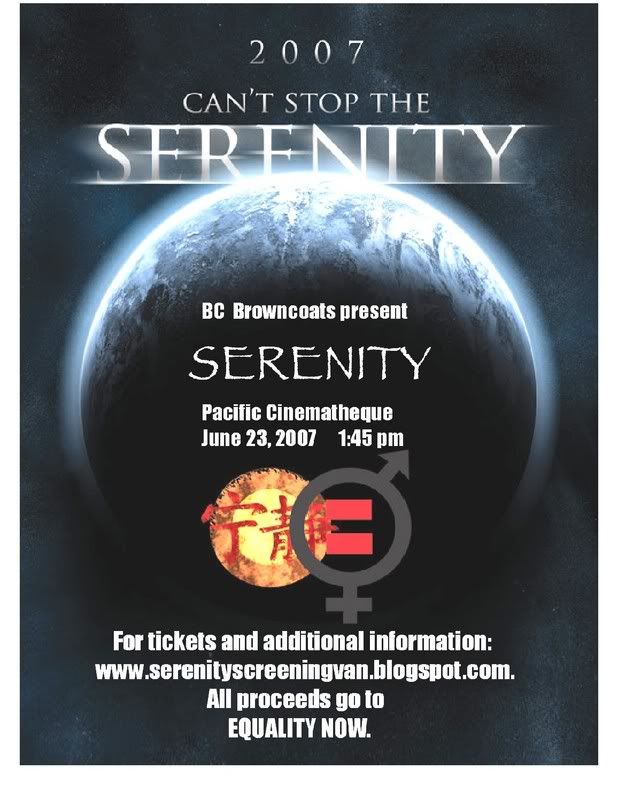 Tickets are $15 and are available from members of the Organising Team, through the PayPal button at the bottom of the page ($1 service charge added) and now from Happy Bats Cinema, 198 East 15th Avenue (at Main). Thank you, Happy Bats! We're aiming for a sellout this year, so that we have a generous donation to Equality Now!
Again this year we have some wonderful door prizes, including:

a $25 gift certificate from
Videomatica
;
a Trade Paperback of the
Serenity
comics,
Those Left Behind
, courtesy of
The Comic Shop
;
2
Done The Impossible
DVDs and 2 T-shirts from
Happy Bats Cinema
;
a DVD of the "Making of the Women of Sci-Fi Calendar" from
Slacktwaddle.
Global Sponsors and their donations include:
Universal Home Entertainment:
A voucher for the "Serenity: Special Edition" DVD, coming in late summer;
Dark Horse Comics:
a copy of "Serenity: Those Left Behind" Trade Paperback and a mini-poster promoting the comic;
BenBella Books:
a copy of "Finding Serenity" (essays on "Firefly"), autographed by Jane Espenson and a voucher for "Serenity Found", being released in September;
Things From Another World (TFAW):
the Buffy Season 8 Comic #1, written by Joss Whedon, Variant cover;
Quantum Mechanix:
"Fan Club Edition" Serenity Alliance Money Pack;
Done the Impossible:
the Done The Impossible DVD;
Bedlam Bards:
autographed CD;
Dragonweave:
"Serenity" kanji jewellery;
ReadMyChest.com:
buttons and stickers.
Special thanks to Adam at
Black Market Beagles

who designed this year's logo and T-shirt.
In addition, everyone who attends the screening will be able to put their name in a draw for a chance to win two tickets on the
Browncoat Cruise
, December 1, 2007. The winner of the draw in each city will be eligible for the overall draw for two tickets.
Winner is responsible for transportation to and from San Diego.
There will be five jam-packed prize packages this year, each one including an item autographed by Joss Whedon, a Serenity-related T-shirt, a TPB of the Serenity comic, a DVD and other surprises. Buy your ticket now for a chance at these fabulous prize packs.
Canada Safeway
has also contributed to the goodie bags.